Vandaag begin ik met het laatste knuffeltje voor mijn poekieprojectpakket.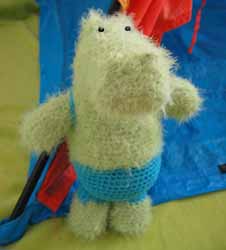 Hij of zij gaat wel roze worden, wat ik persoonlijk vrolijker vind dan dat groen.
Voor meer informatie over het poekieproject en
als je net als ikzelf mee wil doen
kan je hier terecht.
Ik hoop dat mijn knuffeltjes alvast kinderen blij maakt.
Duimen dus.
Dit zijn alvast de knuffels die al staan te popelen om meegegeven te worden.
TodayI made the beginning of my last stuffed animal for my poekie project package.
My hippo will be pink, which I find more cheerfull then green.
For more information about the poekie project and joining the project you can go here.
I hope that my stuffed animals make some children happy so thumbs up.
the two other stuffed animals are allready eager to go on a trip.